Neightive Trainer by ShawnPR1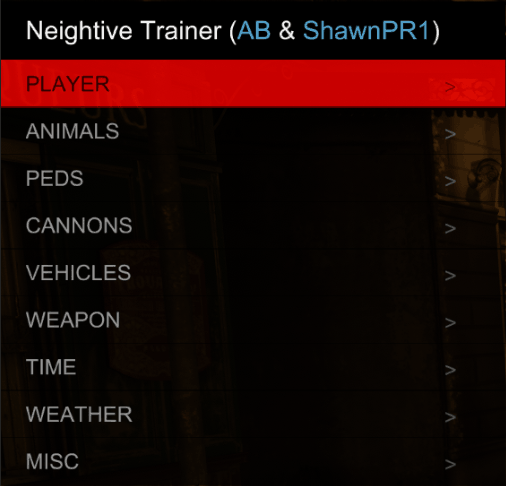 Neightive Trainer by ShawnPR1
Native Trainer Reskinned, Thunder Gun, Ragdoll Keybind, Teleport to Marker hotkey + more!
Full credit goes out to Alexander Blade for his Native Trainer. I wouldn't have been able to do anything without this guy's SDK.
So what did I change?
1) UI Changes:
» Darkened the interface
» Changed the state of menu options (instead of "Y" or "N", switchable menu options now show "ON" or "OFF" respectively)
» If a menu has a submenu, instead of an asterisk (*), that menu will now show a bigger-than symbol (>)
2) Additions to the menu:
» Ragdoll keybind. Found in Misc > Ragdoll Keybind
» Thunder Gun. Found in Weapon > Misc > Thunder Gun. Use this to shoot thunder using any weapon (toggleable) or the M1899 Pistol by default! PLEASE NOTE: This might not always work in towns or some areas due to the weather being clear! Set the weather to cloudy or raining or something along those lines and it should work again!
» Teleport to Marker hotkey. Press F11 at any time to teleport to your marker
» Teleport Gun. Found in Weapon > Misc. Use the Bolt Action Rifle to teleport to where you shot!
» Remove all Cash from player (because why not)
» Remove Honor. Found in Misc menu. This will spawn an NPC that, when killed or knocked out, will set the player's honor to the lowest it can go
» Create Fight. Found in Misc menu. This will spawn 2 NPCs that will immediately start fighting each other. Not very handy, but it's something
» Option to spawn peds as fighting or non-fleeing. Found in Peds menu. Only one of these options can be active at a time and will govern how any spawned NPC will behave. Spawning an NPC as fighting will cause them to instantly fight the player. Spawning the NPC as non-fleeing will ensure they don't react to anything. You can even shoot them and they won't run away
» All spawned peds can be killed (except for kids, sorry psychopaths). This includes all camp members and even the player NPC!
» You can navigate the menu with the arrow keys and activate a menu using the Enter/Return key
That's it! I might not update this all too often as I'm quite new to the modding scene. Just wanted some other people to have fun with this and get some feedback!