Here you will get all that you need to download, so there is no need to look for anything by yourself.
Instead of videos, I would like to prepare detailed guides, which I find a lot easier to follow.
This Is What You Need:
Horizon – Horizon Modding Tool Download.
Hazard / x3t-infinity's Modding tool installer. – Hazard / Infinity – Installer.
A program that you will use for extraction of zip files – Winrar
Extremely important: A USB / External Storage device
Let's begin:
Step One: Load Horizon, to have it ready for later.
Step Two: Plug your USB device into your xbox One,.
Step Three: In storage devices, find your " Red Dead Redemption 2″
Step Four: Copy or Move the file that you have chosen to modify to your USB.
Step Five: Pull the USB out from xbox and plug it into your laptop or desktop computer.
Step Six: Open the Installer that you've downloaded before [ Hazard ] Locate " RDR2 Tool ", which normally looks like this.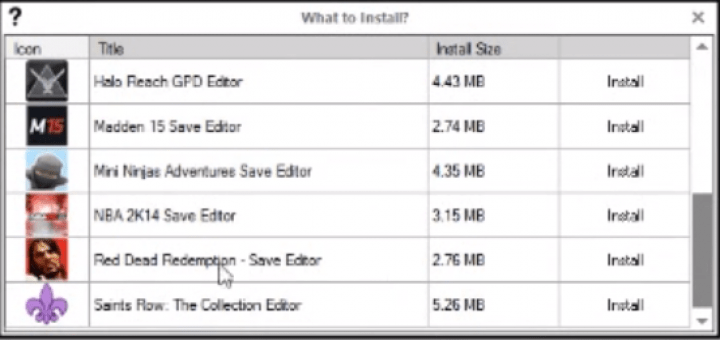 Step Seven: Open the file that you previously added onto your USB in Horizon, choose "Contents" and right-click on what you find there and extract it to your desktop. – This is the file that you will need to open in the RDR2 Tool.
If you fail to locate the contents button: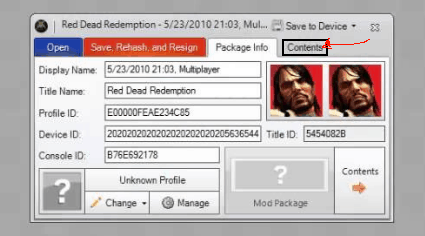 Step Eight: Open the tool, normally this is what you should see:
Single Player: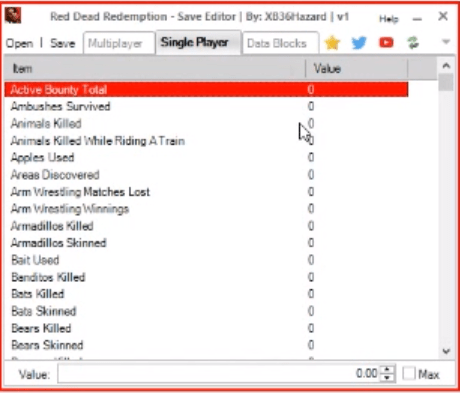 Multiplayer: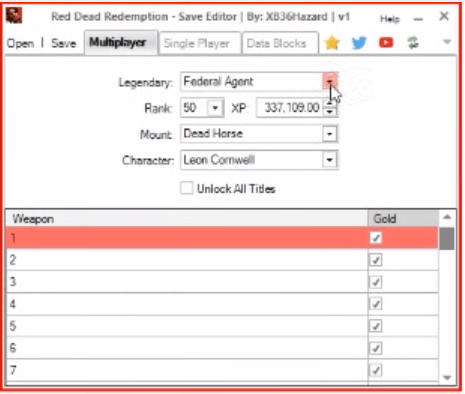 Step Nine: Click on Open and open the file that you have extracted previously from "Contents", it should be saved on your desktop.
Step 10: When you're done with modifications of your selected file, choose "Save" and then choose "Contents in Horizon" and replace the existing file.
Step 11: Save rehash and resign. Replace the current file when asked, then simply insert your USB device into your Xbox and have fun.
– If you would like to use these mods on Backwards compatibility as well, you need to copy them from your USB / Hard-drive and paste them to your " Cloud Storage "
Possible Issues:
Issue One:
You may have an issue, like getting the error code that says Invalid Save Type: 0x20 after extracting from Horizon or some other program.
Steps: Go to Save in Horizon, and click on Contents.
Step 2: Extract what you find there to your desktop [ change the name if you already have something with the same title ] Step 3: Upload the extracted file from [ Contents ] to the editor. This should fix the problem.
Step 4: Once you've finished modding your file, change its name to " RDR2MPSAVE " – in case you had to choose a different name.
Step 5: Find Contents on Horizon, then do the right click and upload the new file, that you have successfully modified, instead of the old one!
Step 5: Congratulations – now you're a modder!
Issue Two:
You see the message about an invalid STFS package error – Install winrar / other zip file programme.
What can you unlock – Multiplayer:
All Gold Guns
– If you can't move from max prestige level 5.
– Set your prestige to 4th and then set your rank to 49
Undead Horse
Prestige's / Exp
All Titles
You can choose from any characters you like, even those that are forbidden online.
What can you unlock: – Single Player:
You can edit stats
Block Data
If you can think of any other topic that you'd like to have a modding tutorial for, do not hesitate to let me know and I'll do my best to make one for you.
Of course, all the game fans are waiting eagerly to see the latest version of RDR 2, but a lot of players are thinking of implementing various mods to have their own customized version of the game. Plenty of us would love to know How to install Red Dead Redemption 2 Mods easily and without too much effort. We want to avoid issues and not lose our time figuring out how it all works. As you all know, mods have a lot of importance in this game, this is why it makes sense to dedicate time to learn as much as we can about them. (particularly now that we still have enough time for that with the release date being unknown so far). Knowing How to install Red Dead Redemption 2 Mods may prove to be a really good thing when the game finally is released – you save time as you will be able to do everything you want without searching for information on various guides at the time when all you want to do will be to play. I guess that now you agree that it is necessary to read about How to install RDR 2 Mods and have it all figured out in advance.
There certain important steps that you should pay attention to during the Red Dead Redemption 2 Mod Installation. First of all, it is extremely important to have Open IV and open it right at the start of the installation. Another key step on the list of How to install RDR 2 Mods is getting to your x64e.rpf file. Afterward, you should reach gta5 and finally go to on vehicles.rpf. This is not complicated to do, in fact, you will find the whole thing similar to other games but be careful with the details specific to Red Dead Redemption 2 Mod Installation. The last step is to remove all of those files from your ZIP file and you can consider your job done. All blimps will get installed in the game automatically and you can choose to start it in the menu of a mod. Normally RDR 2 Mod Installation should be easy and smooth – developers tend to stick to the same principles in order to make the structure understandable and user-friendly. If you do everything according to the instructions given above, RDR 2 Mod Installation will turn out to be a very simple affair for you. You can see everything by yourself once the game is launched.
As soon as we receive new updates regarding the How to install Red Dead Redemption 2 Online Mods, we will post everything on our website. We want to make sure you have no questions left when the game finally reaches us, this is why we want to help you get ready. You can be among the first people to get the hottest news about How to install Red Dead Redemption 2 Online Mods! It is our pleasure to be able to share the most topical information about How to install RDR 2 Online Mods – there are constantly plenty of news coming when modding is concerned. We are certain that our most faithful and enthusiastic gamers will keep us excited! Simple learn How to install RDR 2 Online Mods properly and you'll be ready for the game of your life!
[ratings]